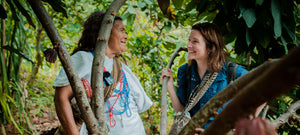 GoodSAM stands for: Sustainability, Action, Mission.
OUR PURPOSE
We're making access to delicious, healthy, regenerative food products easier for everyone, and doing good along the way.
we care.
To generate wellness from start to finish, along with delicious experiences that honor their origins, in order for communities and ecosystems to flourish. 
Through food, we care.
We make it easy to DO GOOD.
By teaching ourselves and others, and making challenges visible, we invite and involve others to create new solutions which keep people and the planet at the very core of what we do.
Making it easy to do good.
We Are Transparently good.
Delicious, healthy and traceable food products.
GoodSAM - Transparently good. 
Together, we can.
Somos was created to build programs that enhance the lives and businesses of our farm partners around the globe.
Educate. Co-Create. Regenerate.

LEARN MORE
GOOD FOR YOU
At GoodSAM, we focus on making a healthy product that you can always feel good about eating.
Our products are made with Organic & Non-GMO ingredients.  
SHOP NOW
GOOD FOR FARMERS
GoodSAM runs a Direct Trade model which means we have eliminated all middle men in our supply chain. We work directly with and know our farmers personally and invest in them and their businesses. 
In addition to paying organic and fair trade premiums, GoodSAM uses 1% of all top line sales to reinvest in our farmers, cooperatives, associations and their communities. 
LEARN MORE
GOOD FOR THE PLANET
GoodSAM's supply chain is centered around regenerative agriculture with small holder farmers and indigenous communities who have been using regenerative practices for thousands of years.
Consumers are becoming eco-conscious:
We are in a new age where "climavores" (consumers who choose foods based on their impact on the environment) are beginning to shape the food production landscape.
LEARN MORE