Article by
Corey Nelson, Lisa Paris and Ashley Koff
GoodSam Dark Chocolate   |   Taza Wicked Dark   |   Bulletproof 63%   |   Equal Exchange Very Dark   |   Alter Eco Deep Dark   |   Green & Black's 85%   |   Chocolove XOLily's 70%   |   ChocZero 70%   |   
Hu Simple Dark
Dark chocolate is a nutritious treat that's high in fiber, iron, magnesium, potassium, copper, and many other micronutrients(1). 
The beneficial antioxidants found in cacao may also support cardiovascular health and a healthy brain according to scientific evidence(2)(3)(4). 
And equally importantly, high-quality dark chocolate can be a gourmet tasting experience that makes the perfect snack, dessert, or wine pairing.
But here's a question to consider and reflect on: what, exactly, does the best dark chocolate mean to you? 
Is it best for your taste buds; your health; the environment; or the workers who cultivate cacao? Or perhaps all of the above?
Unfortunately, while a lot of dark chocolate certainly tastes good, it's often processed in a way that reduces the health benefits of chocolate or adds unhealthy ingredients like sugar(5).
And even worse, large multinational chocolate companies also engage in harmful practices like deforestation and child labor — facts they'd rather not spell out on the label.
This guide sheds light on the best and most popular dark chocolate brands of 2021 with one goal in mind: to help you discover your favorite dark chocolate of all time!
Keep reading to learn about flavor profiles, ingredient quality, real customer reviews, nutrition facts, and more.
At GoodSam Foods, we make it easy to feel good about the chocolate you buy. Our entire line of gourmet chocolate products is organic, keto-friendly, produced with environmentally friendly regenerative agriculture methods, and purchased directly from farmers using economically sustainable direct trade practices.
GoodSam co-founders Sam Stroot and International Culinary Center-trained chocolatier Heather K. Terry set out to design a gourmet-quality, sugar-free, equitable line of Direct Trade Certified chocolate. 
As a result, our business model is 100% transparent and based around regenerative agriculture and direct trade with small farmers, which are better for the planet and better for workers in the cacao industry.
And the chocolate itself is truly delicious and decadent — we weren't willing to compromise on flavor or quality to make a healthy, sugar-free chocolate. 
Fortunately, the all-natural allulose sweetener we use instead of sugar offers a very similar taste and mouthfeel to sugar, but with 90-95% less calories (and according to recent evidence, also some added health benefits!).
Quick summary of GoodSam's Dark Chocolate: At less than $5 per multi-serving bar, GoodSam's 55% Cacao Bar is affordable and priced to enjoy regularly. The expertly formulated dark chocolate recipe is creamy and non-bitter, with a classic dark chocolate flavor. It's also sweetened with allulose, making it low-carb and keto-friendly with just 1g of net carbs per serving.
What customers are saying about GoodSam: 
"The healthiest dark chocolate in the world. Wonderful creamy chocolate that I don't have to feel guilty eating."
"This is so good! I love that it does not have the cooling feeling or after taste that some other sugar free chocolates have! No sugar, made using allulose, dairy free, and taste great! Very transparent and forward thinking company!"
"After 3 years of keto, I've finally found an amazing chocolate that's delicious and I don't feel guilty!"
"Love love love these! Finally a sugar free bar without the aftertaste! I'm not a huge fan of sweeteners like stevia and monk fruit. This was my first interaction with allulose and I can say I will be coming back for more!"
 Try GoodSam Dark Chocolate as part of our affordable Chocolate Bar Bundle or purchase individually on Thrive Market.
Taza Chocolate CEO Alex Whitmore fell in love with stone-ground chocolate during a trip to Mexico. He founded his Massachusetts-based chocolate company in 2005, then pioneered ethical cacao sourcing with the first third-party certified Direct Trade Cacao Certification program in the United States. Quick summary of Taza 95% Dark Chocolate: In a word, this chocolate bar is all about intensity. Due to the extremely high concentration of minimally processed stone-ground cacao, there's no escaping the bold, complex, slightly fruity flavors. It's also organic, low-carb, and Direct Trade Certified.
What customer reviews say  about Taza's Wicked Dark Chocolate Bar:
"These chocolates are different from anything else I've ever bought. They have a deep, rich, robust flavor unlike any other chocolate. The texture isn't smooth and creamy like Dove or Hershey's - it has what I would describe as a "stone-ground" texture." 
"This is not your usual chocolate bar, but it is unique, the real deal, and I love it. You can eat a small piece of this and it will keep you going for awhile. If you are fond of overly sweet creamy chocolate, you will not like this."
"Delicious chocolate — but only for those who TRULY love dark chocolate. I eat a lot of 100% and 99%, so this does not seem overly bitter or earthy to me, but it might to someone who isn't used to extremely dark chocolate. To me, this tastes the way real chocolate should taste. Rustic, intense, dark." 
What Taza gets right:
It's bold and smooth without being overly bitter.
No added sugar and only 2 grams of net carbs per serving.
At $5 for a single-serving package, the Wicked Dark bar is reasonably priced, especially in light of the excellent quality and the fact that it comes from a small company.
What Taza could do better:
In our opinion, Taza is one of the best chocolate companies in the world — that's why they merit a high position in this list of the best dark chocolates of 2021. That said, as reviewers rightly caution, this particular dark chocolate definitely isn't for everyone. But if you're open to an intense experience, go for it!
The motto of Bulletproof, a nutrition company founded by biohacker Dave Asprey, is "nutrition reimagined." Unlike many food manufacturers, Bulletproof's primary focus is on designing food products to maximize health benefits and human performance.
Quick summary of Bulletproof Dark Chocolate: With ketogenic medium-chain triglyceride oil (MCT oil) and sugar-free sweeteners, this bar is clearly geared to health-conscious people and those who follow the ketogenic diet. The product isn't perfect, but it's a step in the right direction. We'd love to see more offerings like this one available for consumers.
 What customers are saying about it:
"I cut out sugar a couple months ago and this is so yummy and satisfies my cravings when I have them. Definitely recommend if you like dark chocolate and sea salt."
"The only thing I don't like about this, is trying to stop eating the entire bar! The mix of sweet with salt in this dark chocolate version is perfect. Much better than other low carb chocolate like Lily's. AND it has MCT oil, so it's a great pick-me-up, too."
What Bulletproof gets right:
Thanks to being organic with no added sugar, this bar wins points with health-conscious buyers, and the addition of MCT oil to a chocolate bar is a novel idea that may appeal to keto dieters.
Fair Trade doesn't benefit farmers as much compared to Direct Trade, but it's still far better than the exploitative trade methods most big mainstream chocolate companies engage in.
What Bulletproof could do better:
Erythritol causes diarrhea and other symptoms in some people, and stevia has a noticeable bitter aftertaste. While these ingredients are much healthier than sugar, they're definitely not the best choices available for sweetening chocolate.
It's unclear whether this chocolate bar is processed with alkali (some Bulletproof products do contain alkalized chocolate), which may significantly reduce the health benefits of dark chocolate((

5

)). One way or another, we'd like to see it spelled out clearly so consumers can make an informed decision.
Equal Exchange co-founders Rink Dickinson, Jonathan Rosenthal, and Michael Rozyne got their start with fairly traded coffee in the 1980s, then turned their focus toward chocolate in 2001. Today, they partner with farmer cooperatives around the world to produce a variety of edible goods for consumers who care.
Quick summary of Equal Exchange Very Dark Chocolate: At less than $3 per bar, they're among the most affordable organic gourmet chocolate bars available. If you're looking for a delicious and indulgent dark chocolate bar from a conscientious manufacturer, Equal Exchange is a brand to consider.
What reviewers are saying about the Very Dark Chocolate bar: 
"I like the not-too-sweet-but-sweet-enough quality. The flavors come through nicely right away and afterwards. There is a crispiness to the bite that feels great (not waxy like cheaper chocolates). This brand is a great, complex, chocolate."
"This is some of the best dark chocolate I have ever had. It has the best combination of slightly sweet and slightly bitter (from the cacao), like a good dark chocolate should have. It is also smooth and melts in your mouth fairly easily."
What Equal Exchange gets right: 
We appreciate that Equal Exchange shows full transparency about each ingredient and buys exclusively from cooperatives: cacao from farmers in the Dominican Republic and Peru, sugar from Paraguay and Costa Rica, and vanilla from Madagascar.
What Equal Exchange could do better:
With 8 grams of added sugar per serving (which adds up to 20 grams of sugar per bar), the Very Dark Chocolate Bar isn't a healthy daily treat, and it's not for people who restrict carbohydrates or follow the keto diet.
Alter Eco is a US-based company founded by Mathieu Senard and Edouard Rollet. Their motto is "activism through food" and they source 100% of their ingredients from farmer-owned co-ops that practice sustainable agriculture.
Quick summary of Deep Dark Classic Blackout: This is Alter Eco's offering for "serious chocolate cravers." We're impressed with their blend of malty Ecuadorian cacao and robust and fruity Dominican cacao, and we're even more enthusiastic about their focus on regenerative agriculture.
What customers are saying about Alter Eco:
"The bar has a good snap, melts well (especially for an 85% bar), with notes of red fruit (similar to other Ecuadorian chocolate I've tried) that add character but don't overpower the delicious chocolaty taste."
"Outstanding for the lack of bitterness for such a dark bar, it pairs well with coffee and red wine such as cabernet sauvignon."
What Alter Eco gets right:
To our knowledge, Alter Eco is the only chocolate company besides GoodSam that supports regenerative agriculture practices.
Alter Eco uses a Swiss roasting and conching process that caters to fans of refined chocolate textures and flavors without reducing the antioxidant content as much as Dutching (alkali processing).
What Alter Eco could do better:
The Deep Dark Classic Blackout bar does contain raw cane sugar, which means this isn't the healthiest dark chocolate — to be fair, however, with 4 grams of added sugar per serving (10 grams added sugar per bar), it's got the least sugar out of all the bars we featured that contain added sugar.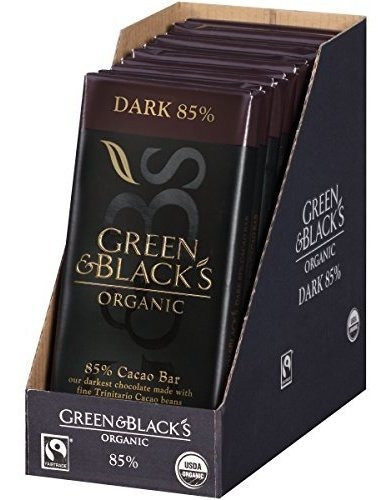 Green and Black's was originally founded in the early 1990s in London by Craig Sams and Jo Fairly. Their flagship product was an organic dark chocolate bar, which is still the company's main focus today.
Quick summary: Trinitario cocoa beans lend a dynamic but well-rounded intensity to this bar. Light sweetening and a hint of vanilla complete the flavor profile, resulting in a rich, smooth, and balanced taste treat.
What customers are saying about it:
"Creamy, lightly sweet. Not sour. Not chalky. Not waxy. This chocolate will disappoint sugar babies. It's for people who eat so little sugar that a small amount goes a long way and the standard amount of sweetening is overwhelming. Only drawback, it's a little hard. Small price to pay for the exquisitely refined flavor."
"The chocolate is dark and memorable, requiring an adult palate. Anyone looking for a sweet Hershey's like experience will be terribly disappointed. It's not chalky like some dark chocolates, surprisingly creamy for such high cocoa content. The aftertaste lingers for a minute, or so, but doesn't paint your tongue for hours.."
What Green & Black's gets right:
Their chocolate is never "Dutched" (processed with alkali), meaning Green & Black's customers get to enjoy the full health benefits of cacao.
We love when companies take responsibility with policies like ethical sourcing (backed by third party organization

Cocoa Life

) and Fair Trade Certification. Good job Green & Black's!
What Green & Black's could do better: 
Unlike most of the other chocolate makers on this list, Green & Black's uses refined or processed sugar to sweeten their chocolate (8g per serving, 20g per bar). It's fine for an occasional treat, but we don't recommend you consume sugary snacks frequently.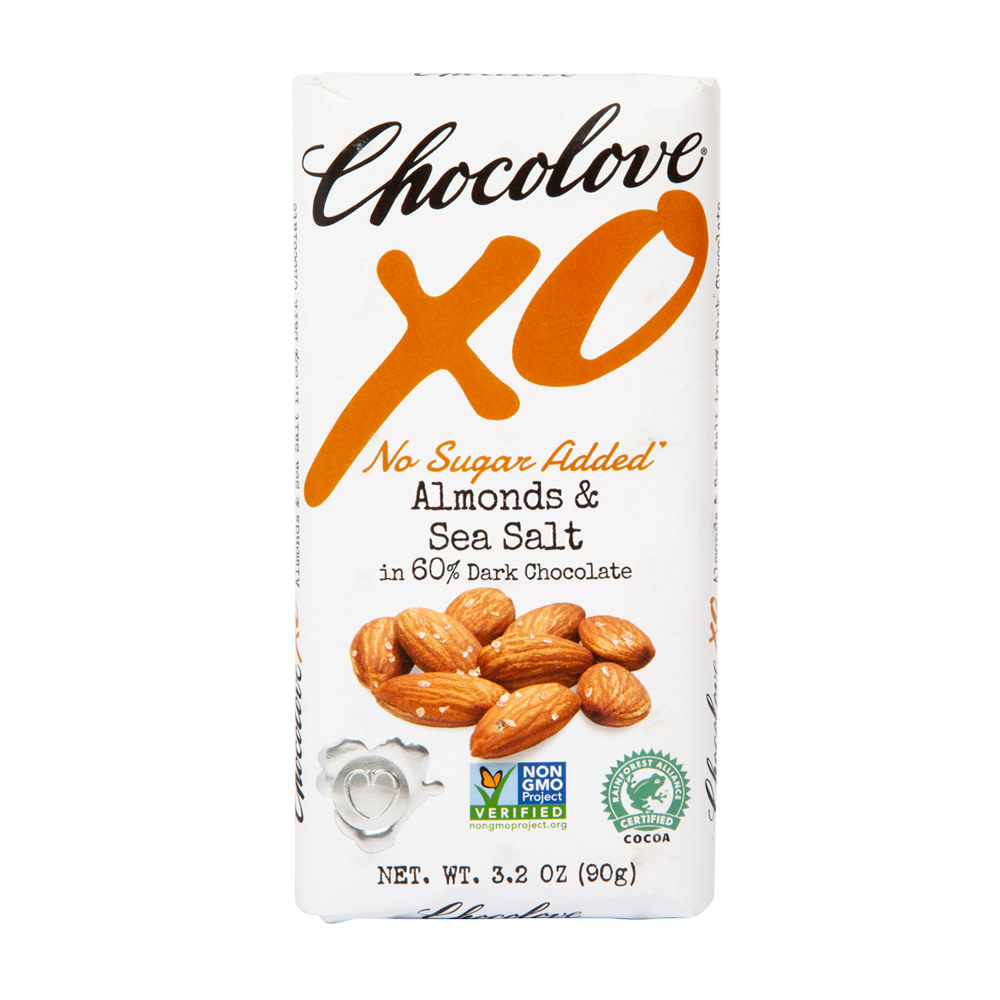 Colorado-based Chocolove, founded in 1995 by CEO Timothy Moley, imports chocolate and cocoa butter from Belgium to manufacture gourmet chocolate treats. 
Although some of Chocolove's dark chocolate products contain sugar, their XO line (extra fiber and zero sugar added) does not. Here's how their popular dark chocolate, almond, and sea salt XO bar compares to other similar products.
Quick summary of Chocolove XO Almonds & Sea Salt 60%: Chocolove's take on the tried-and-true almond dark chocolate bar is well executed, and the Rainforest Alliance certification demonstrates that this company is conscientious about the environment.
What customers are saying about Chocolove:
"I enjoy these chocolate bars. They are a nice balance of dark chocolate that isn't too bitter with a hint of sea salt." 
"The almonds add a nice crunch to chocolate that is just the right density. The chocolate is smooth, not grainy or waxy. Overall, a nice way to indulge with wine or coffee, or both at opposite ends of your day."
What Chocolove could do better:
It's great that Chocolove is non-GMO, but 100% organic chocolate is an even better choice for customers' health and the environment.
Isomalt is a sugar alcohol that may not agree with everyone's digestion. It's also the ingredient that's most likely responsible for the sweetness in the XO product line (as opposed to the chicory root). Uninformed consumers may overlook this ingredient, and we believe it's not an ideal sweetener for chocolate.
You may have heard of Lily's, one of the most popular "no sugar added" brands today. Cynthia and Chuck Tice founded the company in 2011, which has since grown in tandem with public awareness of the dangers of eating excess sugar.
Quick summary of Lily's Extra Dark: Their chocolate is certainly delicious, but we'd like to see more transparency and accountability overall — in terms of ingredients as well as trade practices.
What Lily's gets right: There's no question but that Lily's has done an excellent job of meeting the growing demand for healthy chocolate treats, and their Extra Dark Chocolate Bar is popular among people who understand the downsides of sugar consumption.
What Lily's could do better: 
The Lily's brand's claim to fame is that their chocolate is "stevia sweetened," but a second glance at the label reveals the sweet sugar alcohol erythritol is also present. Unlike stevia, erythritol may cause diarrhea in some people, and its long-term health effects aren't yet known(

6

).
As we've already mentioned in this article, Fair Trade Certification is a good first step, but it's not the best a company can do. We'd like to see Lily's and other successful companies do the right thing, showcase true corporate responsibility, and insist on what's best for farmers and the environment.
Details about ChocZero's founders and origin story are sparse online, but they're very popular with people who wish to manage blood sugar due to diabetes or following the keto diet. However, testimonials show mixed results in this regard.
Quick summary of ChocZero 70% Dark Chocolate Squares: At approximately $5 for 100 grams (ten squares), this product is snackable and among the lowest priced chocolates in this niche. Unfortunately, it's not organic and lacks Fair Trade or Direct Trade certification.
What customers say about ChocZero:
"Very diabetic friendly. I am diabetic and eat a low carb diet (20-30 carbs per day) and have looked high and low for a nice treat that won't blow up my meter. Just to give an example of how well this chocolate is, meter reading before chocolate was 89, 2 hours afterward my meter reading was 85. I am calling this chocolate a complete success."
"This is branded and marketed toward the keto diet, and says it's sweetened with monk fruit.... what they don't tell you is that it's predominantly sweetened with soluble corn fiber, which is definitely NOT keto."
What ChocZero could do better:
ChocZero would stack up better against competitors if it was organic and engaged in direct trade with cacao farmers, or at least demonstrated a commitment to transparency around trading practices.

Soluble corn fiber (an ingredient in ChocZero) may spike blood sugar according to some tests (and plenty of product reviews). If you're managing diabetes and looking for a diabetic-friendly chocolate, or you're a hardcore keto follower, tread very carefully.
According to the co-founders of Hu Kitchen (short for Human Kitchen), there wasn't a chocolate that met their standards, so they made their own. This brand's mission is all about prioritizing simplicity and quality over everything else. 
Quick summary: The Simple Dark Chocolate Bar lives up to Hu's "no weird ingredients" claim, but any discussion of the sourcing, economical, or labor issues around this chocolate is conspicuously absent. At around $6.50 per 60 gram bar, we think Hu can afford to be accountable to better trade practices.
What customers are saying about Hu Simple Dark Chocolate Bar:
 "It is so hard to find an organic Chocolate that is both clean label (no refined sugar, Vegan, Paleo) and also delicious! Most healthy chocolate tastes gross and most delicious chocolate is filled with refined sugar, dairy and chemicals."
"I try to buy a special chocolate each Christmas to indulge with the family. This year I picked Hu Bars. Not too sweet and not too salty. A nice balance."
What Hu could do better: 
We'd love to see Hu dramatically increase their transparency and implement better trade practices that benefit

all

humans.
Some evidence suggests the coconut sugar Hu uses may be marginally healthier than table sugar — but it's still a refined sugar that's not low-carb or keto-friendly, and it isn't beneficial for your metabolic health(

7

).
Conclusion: Your Purchase Makes a Difference
No matter which chocolate products you decide to buy, your purchase makes a difference — for better or worse. 
As you may have noticed while reading this guide, some brands focus primarily on consumer health and ingredient quality, while others prioritize sustainable and ethical trade and labor practices. 
Right now, very few companies manage to do it all, but at GoodSam, we're looking to change that.
By supporting companies who care about doing the right thing — for your health, for farmers, and for the environment — you have the ability to signal that you care, too.
We're not going to sugar coat this: We're on a mission to raise the standards of the entire chocolate industry, and you can help! You don't have to choose between quality, healthfulness, sustainability, ethics, and affordable pricing. With GoodSam, the world's first truly worry-free chocolate, you can have it all.

Discover GoodSam Chocolate in our store or explore our sele